Posted on 06. Feb, 2015 by shortsalemitigation in Blog
Middlesex County Massachusetts Short Sales for January 2015
We have reviewed and compiled the statistics for sold and active short sales for Middlesex County Massachusetts in January 2015.  Keep in mind our report (which we extracted from MLS PIN) includes actives such as BOM, UA, Contingent, etc.  The findings are similar to the findings of our Essex County report.  There are a LOT of active short sales on the market in Massachusetts.  We as a short sale negotiation firm see the numbers steady and possibly rising.  Our firm personally has seen a huge increase of short sales in the last year and so far entering into 2015 it does not look as if short sales are slowing down.
We separated the short sale figures into the Middlesex North and South County of Massachusetts, by the towns that were listed on the registry of deeds.  There were 82 active short sales in the Middlesex South County district and 71 active short sales in the Middlesex North district.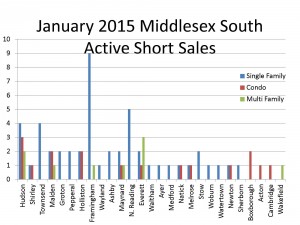 Middlesex South contains the following towns and cities: Acton, Arlington, Ashby, Ashland, Ayer, Bedford, Belmont, Boxborough, Burlington, Cambridge, Concord, Everett, Framingham, Groton, Holliston, Hudson, Lexington, Lincoln, Littleton, Malden, Malboro, Maynard, Medford, Melrose, Natick Newton, N. Reading, Pepperal, Reding, Sherborn, Shirley, Stoneham, Stow, Sudbury, Townsend, Wakefield, Waltham, Watertown, Wayland, Weston, Winchester, Woburn.
Of these towns Framingham had the most active single family short sale listings followed by N.Reading, and Townsend.  Everett had the most active multi family short sale listings on the market.
The Average DOM for single family short sale properties in the Middlesex South County was 211 and days to offer was 90, whereas short sale condos showed increase of DOM of 267 and days to offer as 67.  Interestingly both Essex County Short Sales Multi Family Short Sales and Middlesex County Short Sales had a decrease of DOM for Multi Family property at a mere 143 and days to offer as 11 for all ACTIVE short sales.
Middlesex County South Sold short sales was a mere 12 in January.  I do believe this represents lenders wanting to clear their books for the end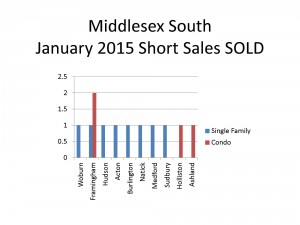 of December 2014.  We have historically seen very busy December closings with light January closings as lenders want to move defaulting property off their books by the end of the year.  In January Middlesex County South SOLD short sales had average DOM of 256, and average DTO of 146. There were no short sale muli-family closings in January.  The condo activity was highest in Framingham, but across the board the condo DOM was 85 and DTO was 63 which is lower that what we saw in the Essex County statistics.
Finally we move on to Middlesex North County for their short sale statistics.  Middlesex North contains Billerica, Carlisle, Chelmsford, Dracut, Lowell, Tewksbury, Westford, and Wilmington.
In January ACTIVE short sales in the above towns came in at 71, which is not much lower than Middlesex South, with 3X less towns.  Lowell makes up most of the actives and solds and it's clear Lowell is struggling with underwater short sale properties.  Any Lowell resident can call our firm if interested in selling.  There are programs out there now that will give homeowners up to $10,000 in moving expenses, for non-GSE loans.  Call us today at 978-384-0032 and see if you may qualif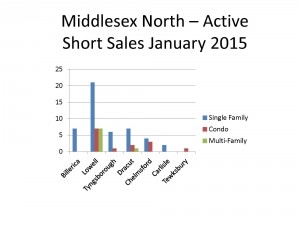 y.
The average DOM for an active single family short sale listing was 234, and days to offer was 99, whereas the active DOM for short sale condos spiked to 276 DOM and dropped days to offer to 74 for Middlesex North Short Sale Actives.  Multi-Family activity rose in Middlesex North to 188 days on market which is 45 more days that Middlesex South Multi Family short sales and days to offer more than quadrupled to 74 versus 11 for Middlesex South.  Maybe the saturation of underwater properties in the Lowell market is not as desirable as other towns.  Lowell led the way for active single, condo, and multi family short sale active property.
Short sale sold activity for Middlesex North in January is right in line with Essex County with 13  closed and an average days on market of 112 for single family listings and days to offer was 83.  The condo short sale listings in Middlesex North County Massachusetts skyrocketed to 239 for the average days on market for solds, and days to offer was 82.  Interestingly the DOM for Middlesex North County Massachusetts short sales was 244 which seems in line with Essex.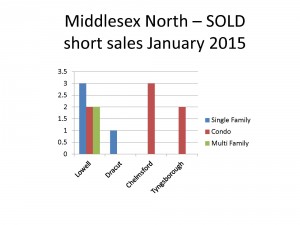 We are not out of the water yet with a housing recovery.  I certainly understand that there seems to be an upswing since the big crash, but there is a lot of short sale backlog to clear.  Our firm works with underwater homeowners looking to sell in ALL of Massachusetts.  We put together your team including listing agent, attorney, and will set the file up for the best chance of a successful closing.  This is ALL at NO COST to the Massachusetts Short Sale Homeowner.
If you are tired of that underwater property, call us today to see if you would qualify for a Massachusetts short sale.
We are the SHORT SALE CLOSERS in Massachusetts.
978-384-0032
Ask for Maryann Little, VP of Short Sale Mitigation